About Us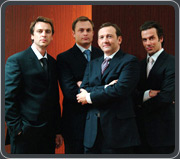 Agarwal Engineering Works is an DNV ISO accredited partnership firm situated at 14, Watkings Lane, Gokul Apartment, Howrah – 711 101 manufacturing a wide spectrum of engineering plastics as well as well as electromechanical items which are, in the main, used by the Indian Railways. The firm started its journey from the year 1962, got approved by the RDSO in the process and served the Indian railways over the years through its continual process of development.
The firm manufacturers various products made of thermoplastics viz PBT, Nylon-66, Nylon-6, Polyurethane, Acetal, Polycarbonate and so on by modern injection moulding machines. Thermo set plastics such as phenolics are also manufactured by hydraulic compression moulding machines. Electromechanical items are manufactured in a separate unit which has got lathe machine, shaping machine, drill machine, and so on.
Equipped with an R&D laboratory, the firm abides by stringent quality specification. New products are in the pipeline for which the R&D activities are instrumental.